Ingredients: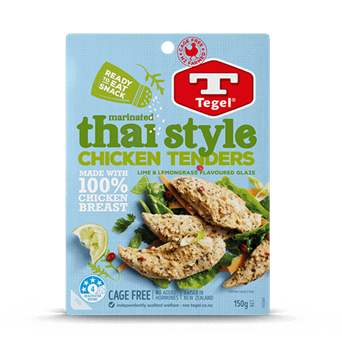 1/3 telegraph cucumber
3 radishes
3 tablespoons rice vinegar
1 tablespoon sugar
½ teaspoon sesame oil
1 tablespoon chopped mint leaves handful mesclun salad leaves
4 Bao Buns (available in supermarket or Asian grocery freezer section or see recipe below)
150g Tegel Thai style chicken tenders
For Bao Buns: (makes 8)
1/4 cup milk

¼ cup water

2 teaspoons caster sugar

2 teaspoons instant yeast granules

2 cups flour

1 tablespoon oil
Method:
1. Thinly slice the cucumber into discs and thinly slice the radishes.
2. Combine the rice vinegar, sugar and sesame oil in a bowl and mix well. Add the cucumber and radishes to the bowl and toss to coat with the vinegar mixture. Set aside.
3. Place a large bamboo steamer over a saucepan over simmering water and steam bao buns for 10 minutes or until puffed and tender.
4. To serve, arrange some salad leaves in each bao bun along with chicken, cucumber, radish and mint. Serve at once
For Bao Buns:
1. Combine the milk and water and heat until lukewarm. Dissolve the sugar and yeast in the liquid and set aside for 5 minutes until frothy.
2.  Place the flour in a large bowl, pour in the yeast mixture along with the oil and mix well.  Turn out and knead utnil smooth and elastic (you can also mix this in a cake mixer with a dough hook).
3.  Return the dough to the bowl, cover and set aside in a warm spot until doubled in bulk.
4.  Divide the dough into 8 and roll into oval discs. Brush the surface with oil and then using a chopstick or a skewer, fold each disc in half over the chopstick.  Allow to rest on a baking paper lined tray for another hour.
Tips for Thai Style Chicken Tender Bao Buns :
Rate this recipe
Share this recipe