Ingredients: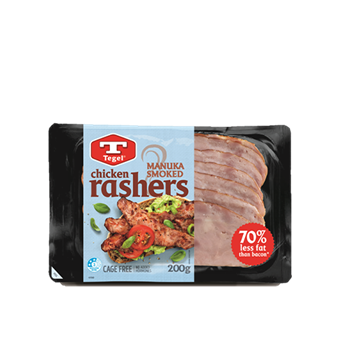 1/2 small baguette
2 Tbsp olive oil
8 Tegel Manuka Smoked Chicken Rashers , cut into strips
2 firm pears
1 Tbsp lemon juice
1 bunch watercress
1/2 cup walnuts or pecan nuts, toasted
100g blue cheese, crumbled 
Dressing:
3 Tbsp olive oil
2 Tbsp lemon juice
1 tsp honey
Method:
1. Preheat the oven to 200°C.
2. Cut the baguette into chunky cubes and place in an oven dish. Drizzle with the  olive oil and bake in the oven for 15 minutes or until crisp and golden. Remove from the oven and allow to cool.
3.Heat a dash of olive oil in a frying pan. Add the Tegel Manuka Smoked Chicken Rashers and cook over medium heat for 3 to 4 minutes or until it is brown.
Remove from the heat and cool.
4. Slice the pears thinly and sprinkle with the lemon juice. Place the watercress in a salad bowl. Top with the crispy bread cubes, pear slices, chicken rashers, walnuts or pecans and blue cheese. Drizzle with the dressing and toss gently. Serve immediately.
Dressing:
Whisk all the ingredients together. Season to taste.
Rate this recipe
Share this recipe
You might also like

Related Recipes: