Ingredients: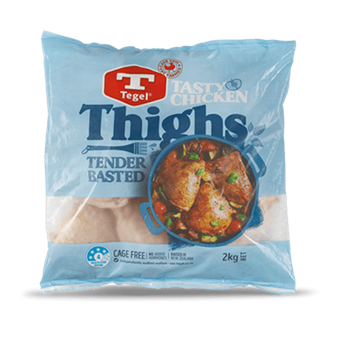 500g Tegel Frozen Chicken Thighs 2kg, cut into large pieces
1 garlic clove, crushed
1 tsp finely grated lemon zest
1 tsp finely grated orange zest
2 Tbsp orange juice
2 Tbsp lemon juice
2 Tbsp soy sauce
1 tsp honey
2 tsp sesame seeds

Asian Greens
1 clove garlic, crushed
1 bunch Chinese broccoli (gai larn), sliced
1 bunch bok choy, sliced
Method:
1. Heat a dash of oil in a frying pan. Add the Tegel Frozen Chicken Thighs 2kg and cook over medium high heat until golden brown. Reduce heat and add the garlic and cook for a further minute. Add the lemon zest, orange zest, orange juice, lemon juice, soy sauce, honey and sesame seeds. Stir fry for a further 2 minutes or until the chicken is cooked through. Remove the chicken from the pan and keep warm.
Asian Greens:
2. Add a further dash of oil to the pan. Add the garlic and cook over medium high heat for 1 minute until it is golden brown. Add the vegetables and stir fry for a few minutes until they are just wilted. Add a little water if necessary.
Serve the chicken and stir fried greens with rice.
Tips for Zesty Citrus Chicken with Stir-Fried Asian Greens:
Rate this recipe
Share this recipe