Ingredients: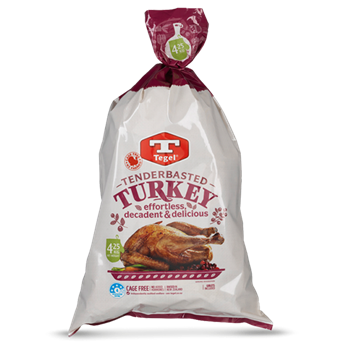 1 Tegel Whole Frozen Turkey - Various Sizes
Stuffing:
1/2 french stick, diced into 1cm pieces
2 Tbsp olive oil
2 Tbsp butter
1 onion, finely chopped
1 stalk celery, chopped
1/2 red pepper, diced
2 cloves garlic, crushed
125g button mushrooms, sliced
1 Tbsp Tuscan seasoning
1 tsp chopped fresh thyme
1/4 cup chopped fresh parsley
2 eggs, lightly beaten
8 to 10 slices streaky bacon or prosciutto
2 Tbsp olive oil (extra)
Method:
1. Preheat the oven to 180°C
2. Place the diced bread into a baking dish and drizzle with oil. Bake for 10 to 15 minutes, turning frequently, until golden brown.
3. To make the stuffing, melt the butter in a saucepan. Add the onion, celery, red pepper and garlic, and cook over medium heat for 3-4 minutes, until softened. Add the mushrooms, seasoning and thyme, and cook for a further 2-3 minutes. Remove from the heat and place into a bowl with the bread. Stir in the parsley and the eggs. 
4. Reduce the oven temperature to 160°C.
5. Remove the neck and giblet packs from the body and cavity of the Tegel Whole Frozen Turkey - Various Sizes.
6. Stuff the turkey, tie the drumsticks together and fold the wing tips underneath. Place the turkey into a roasting dish. Cover the breast with bacon. Drizzle with the extra oil.
7. Roast for 2 hours 40 minutes*, or until the juices run clear when pierced in the thickest part of the bird. Baste frequently during cooking. Remove from the oven and allow the turkey to rest for 15 minutes before carving.
8. Serve with roast vegetables, gravy and your favourite green vegetables.
* Cooking times are based on a size 3.5 Tegel Whole Frozen Turkey - Various Sizes. For other sizes cooking times see our turkey tips.
Tips for Roast Turkey with Festive Christmas Stuffing:
Rate this recipe
Share this recipe